This amazing bundle contains ALL of my encaustic wax online courses, at a bargain bundle price of almost 50% off... Hours of content for you to explore and be inspired by...
I help people tune into their natural born ability to create... to listen to their soul, and start the creative process... without overwhelm on the hows.
Who is this for...?


This is for you if:
You're an encaustic artist, wanting to expand your skills.
You're new to encaustic wax painting, and need help on where to start.
You love the look of the effects encaustic can bring, but find the whole thing a mystery!
You're done with staring at a blank canvas, and freezing on your next steps... You need some inspiration to work along with.
You want to work through a host of projects and techniques at your own pace, in your own time, with the ability to share and ask questions when needed.
You know it's time to prioritise your creativity.
We allow the hot wax to take us on a journey of flow and self discovery, through the simple enjoyment of colour, texture and loss of self, in the best creative way!
This package contains hours and hours and hours of content for you to explore and be inspired by. I haven't counted them all up, but it's LOTS of content! Click on all of the individual courses below, to see what's within each course.
It's an Aladdins Cave of projects, tips and techniques, suitable for any artistic ability, from young teens, through to the not so young... As long as you enjoy learning, creating, and you actually put the content into practice.... this is going to be a lot of FUN!
Packed full of inspiration, and whilst there is some duplicate content within some of the courses (eg. how to clean your iron, best supports to use, etc) every course has something different contained within the project section, to spark your imagination with new ideas.
Full value of these courses is £752, but you can buy them all right now, with instant access, for £379, giving you almost 50% off. Definitely my best value way to get your hands on HOURS of inspiring content.
Also, buying this bundle today means that you will get automatic updates to any of these online courses in the future... AND you will automatically receive any new online courses* I create, as they will be added to this bundle of courses as well... There has never been a better time to follow your intuition, and get creative using encaustic wax!
I am sharing these courses in this way, because I am passionate about encaustic. There have been next to no teaching resources around this medium in the UK. That's why I created these courses... to help others discover the beauty and magic of this medium, and to avoid some of the pitfalls and frustrations I've encountered along the way...! It has been a wonderful journey of self discovery, and one that I would love to share with you... Through sharing our knowledge, we make life a richer place...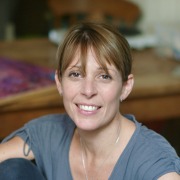 I first discovered Encaustic Wax Art in 2012; it was love at first sight! I was absolutely entranced by this magical medium, and set out to learn as much about it as I possibly could.
Since then, I've run workshops, demos, art talks and 1-1's to thousands of people over the years, from small art clubs, to The National Honey Show, and Living Crafts, helping complete beginners, who claim not to draw a straight line, through to professional artists wanting to expand their skills. Teenagers to grandparents. I started teaching over Zoom, just before the pandemic hit in 2020, it's fabulous having this technology to reach so many people, from all over the world
Frequently Asked Questions
When can I start working through the content?
Upon purchase of this bundle, you will have full access to all of these online courses, pick one, and start... once you're logged in, Teachable shows you how far you have progressed through each course. You have lifetime access, so can work through them at all your own pace.
Does this bundle include additional workshops?
This bundle contains online courses only, there is no additional coaching or zoom workshops with this package, however, you are welcome to share your creations and ask questions in my Facebook group, details of which are inside the online course details.


What new Online Courses will be added?
By purchasing this bundle of online courses today, you will automatically get access to any future online courses* I create that are stand alone courses hosted within Teachable. The existing courses contain everything you need in terms of techniques and how to build your paintings, however, I plan to create more specific courses in the future, where we work through actual projects, and create finished pictures... which you will get automatic access to, at no further cost!
*Does not include zoom workshops, or memberships.




I've already purchased some of your courses, how can I buy the bundle?
If you've already purchased some of my online courses, simply drop me an e-mail: [email protected] stating which payment option you would prefer, and I'll reply with an alternative payment link, with the amount you paid previously deducted from the bundle cost, therefore, you won't pay for the same courses twice. Upon receipt of payment, I will add you to the bundle manually.
Can I get a refund if I'm unhappy with my purchase?
I would never want you to be unhappy, and I offer a 14 day refund policy on all of my online courses.
Bundle Contents
Click on each of the course details to see what's contained within each course...
Whilst all courses can be purchased individually... this bundle will give you the best value, saving almost 50%.... My gift to you....!